Canadian Formula-1 Grand Prix
Canadian F1 GP is happening this weekend, and with the Red Bull Racing extending its advantage fully in the last Azerbaijan GP, Ferraris have to perform in Montreal this weekend to stay close to Red Bull in the Hunt for Formula-1 championship 2022.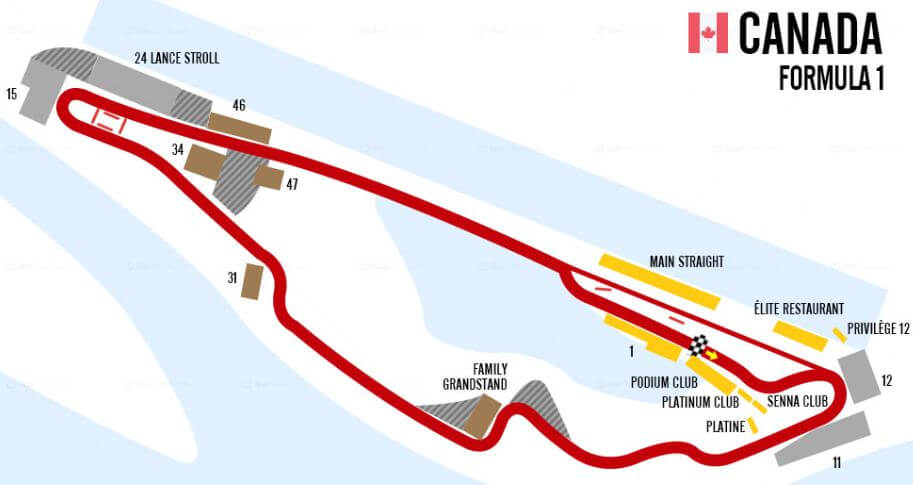 Canadian GP circuit
The race of Montreal on the F1 calendar is one of the most exciting races out of all, because of the fact that it offers drivers amazing opportunities to overtake which makes the race worth watching. The long straight is suited for DRS to do its job for the car chasing the guy in the front, that is why the Formula-1 teams run the low downforce setting on this circuit of Gilles Villeneuve, named after the dad of 1997 Formula-1 World Champion Jacques Villeneuve.
The Ferrari Fightback
After a dismal performance at the last weekend's Baku GP 2022, Ferrari has its work cut out. They can not afford another DNF like last weekend where reliability issues stuck them big time taking both of their drivers, Carlos Sainz & Charles Leclerc out of the race. Their DNFs in Azarbaijan resulted in Max Verstappen extending his F1 World Championship lead by a big margin and when we look at the constructor's championship, it looks even worse for the Ferrari as the Red Bulls are stomping ahead.
The Red Bull Controversy
As we have seen in the past that Red Bull Racing has put clear weightage on their driver Max Verstappen over Sergio Perez, but with Ferraris slipping down in the championship, Checo Perez has moved to the second place in the championship just behind his teammate Max. Sergio has a point to prove so erase the No.2 from him because if RBR sees Checo slower than Max in the coming races then he will have to settle for being the Number .2 driver in the team.
Live Streaming Of Canadian GP 2022
Canadian Grand Prix won't be available everywhere online to steam, so you would be needing a VPN to watch the Montreal GP live 2022 on your computer screens.