Kim Kardashian Damages Marilyn Monroe's dress
Met Gala wasn't a ceremony that Kim K. would like to remember for long, as her curves have landed her up in trouble after she allegedly damaged the iconic Marilyn Monroe's dress.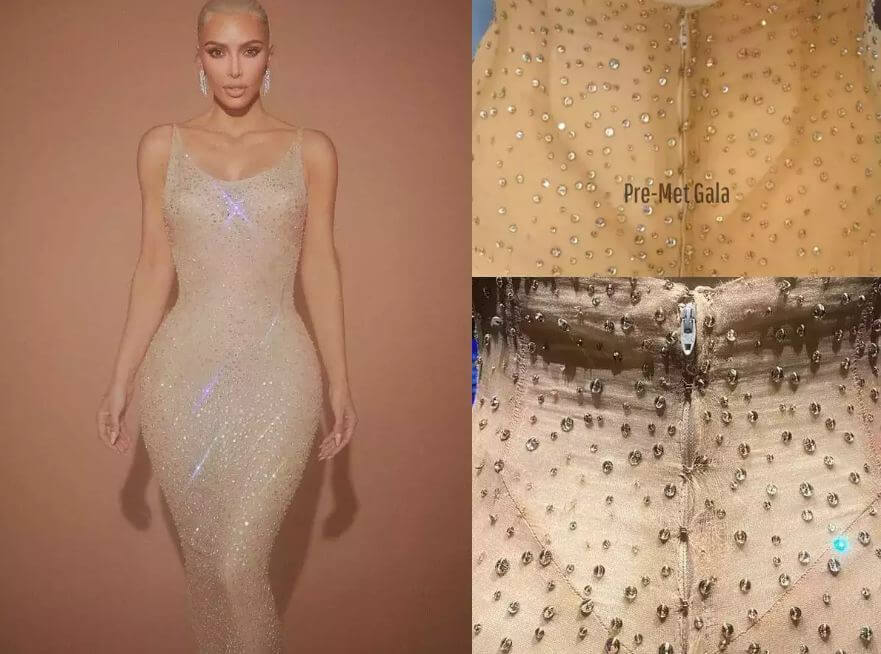 As everyone can see in the above image, the conclusion has been drawn by putting the two pictures together, one was a pre-met gala, and the lower one post met gala when Kim K. wore it. We can easily spot the stretch in between the buttons of the dress.
Price tag & the damage to the Iconic dress
According to Binge Access, the damaged dress of Marilyn Monroe is worth a whopping $4.8 million dollars today which was purchased by the Ripley's Believe it or not. According to the experts the damage to the dress was zipper issues, the torn fabric of cloth from the hooks, the shoulder strap has issues and the beads of the dress are missing.
Why is Marilyn's dress so inconic
One would ask, why this particular dress is given so much importance. It is because of the fact that Monroe wore it when she was happy singing "Happy Birthday" to the assassinated John F Kennedy, in the year 1962.